Wedunit was the name of our hobby farm property, it's pronounced we-dunit (as in we done it). I guess one of our predecessors was really glad they got here.
I do not offer gems and jewellery for sale, that I would not wear myself. I stand behind every single piece I make. Much thought, time and effort goes into design and creation of my jewellery. This is not a hobby for me but a career and business.
I have been making and selling my jewellery for over 10 years now and I am most grateful to all my wonderful customers for their trust and support. I will continue to serve you with even greater dedication and quality, as it is most important for me, that you should be very happy with your new piece of jewellery.
Even though I occasionally sell jewellery pieces at craft fairs and in selected shops and galleries, I am mainly an online store. Pick-up from my workshop in Swan View, WA 6056 is available upon prior appointment. Please contact me via email .
All designs, pictures, and descriptions are the sole property of WEDUNIT Jewels.
Please note, that our photos are not for size reference, they are enlarged to show detail. For actual size please refer to measurements given. If in doubt, please contact us before your purchase.
I design and make precious and costume jewellery, all handmade sometimes using pre-fabricated findings. Most pieces are limited edition items, giving you the chance to wear high quality, unique jewellery available for a very competitive price. A few of the offered pieces are made with gold or silver plated findings but most of it can be done in Sterling Silver, silver filled, gold filled, Copper or Vermeil. Prefabricated findings, such as ear fittings, clasps etc. can be changed according to your wishes. Hypo-allergenic ear wires are available.
Sterling Silver
Sterling Silver contains 92.5 % Silver. The rest is made up of mostly copper to make the alloy harder.
I sometimes use findings made out of 99 % Silver, which is called fine Silver. Those pieces were made under 'fair trade regulations' by a group of Karen Hill Tribe villagers in Northern Thailand. These are handmade findings and I will always mention when I use those. I also make fine silver head pins and ear wires myself.
Copper
I use solid copper findings and wire as well as high quality copper plated findings.
Brass
Is an alloy of copper and zinc, in proportions which can be varied. Raw brass oxidises just as sterling silver and copper. I also use antique bronze plated metal findings and wire.
Bronze
Bronze is an alloy consisting primarily of copper, commonly with about 12–12.5% tin and often with the addition of other metals and sometimes non-metals or metalloids.
1/20 Gold Filled
Gold Filled (GF) is a layer of 10Kt or better gold mechanically bonded under heat & pressure to base metal, then rolled or drawn to a given thickness. The amount of real gold/Silver used is why GF items are always much more expensive than their gold/silver plated counterparts, but are still much better value than solid gold. 1/20 Gold filled means that 1 part in 20 is real gold.
The gold layer does NOT wear off , it does NOT tarnish and it does NOT create allergy problems. If you can wear 14K gold, you can wear 14K gold filled. Gold Filled wire is considered a lifetime product, suitable for heirloom jewellery. The layer of gold does not wear off under normal wear situations, making it an excellent choice for pins, pendants, and bracelets.
Wire art jewellery is in a unique position to take advantage of gold filled wire because no heat is required to create wire art jewellery pieces. Because there are 2 types of metal and 2 separate melting points in gold filled wire, traditional jewellery techniques requiring heat cannot be used without changing the properties of gold filled wire. Thus gold filled jewellery is not widely available.
Vermeil
Vermeil is Sterling Silver (not base metal) with a thick plating of 22 or 24 ct gold. The layer is 3 microns thick and is not comparable with gold plating over base metal. The use of high carat gold and genuine Sterling Silver as base makes these findings expensive but beautiful. The colour is much more yellow than gold filled.
1/40 Gold-filled, 1/40 Silver-filled
This is a brand new high quality imported wire product. It is manufactured in the same way as 1/20 gold filled metal. The amount of real 14K gold is 1 part in 40.
Gold and Silver Plated
These items have a thin layer gold/silver electroplated to the surface of the item. They have some other type of (base) metal underneath. GP or SP items are always less expensive than their Gold Filled or Silver filled counterparts. The plating will eventually wear off. Findings can be replaced or higher quality findings can be fitted instead.
● I offer jewellery at various price levels. Please be aware that the items in the lower price categories have those lower prices because they might be made with plated components/chains and lower quality gemstones. You can always contact me to upgrade your item with higher quality metal options and better quality gemstones. Please do not purchase a Hyundai and expect a Ferrari.
Gemstones
I use precious and semi precious gemstones as well as crystal and art glass in my designs. The item description will always state what has been used. I guarantee my items to be as described. I use gemstones in several different qualities. Best quality gemstones are rated AAA which denotes the quality of the stone itself, but also the faceting, polish and the quality of the drill holes (straight, unblemished). AAA gemstones are not available in every gem variety and sometimes they are just very expensive. Most natural gemstones have inclusions, it's part of their character and a good sign that they are natural. Nearly all available gemstones have been treated in some way. I will always disclose whatever information I have. Please have a look at the information listed under gemstone treatments.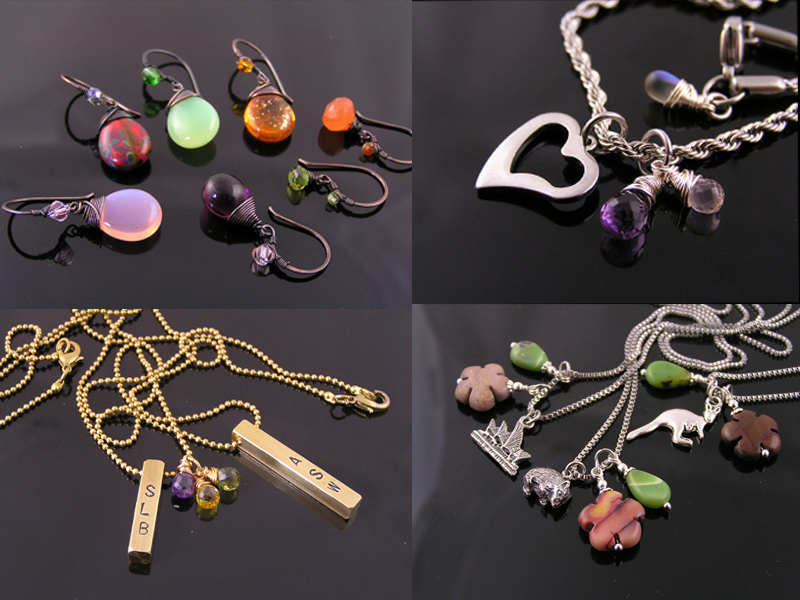 Handmade Jewellery Australia, Australian Jewellery Brands